Pottery -The Beauty of Handwork-
Many pottery studios (Atelier) are located in the HEART OF THE SAN'IN REGION. This is because there were many people in this area who made pottery influenced by the Mingei movement that began in 1926; "Mingei" means "a folk craft or common art".
The movement was to discover and utilize beauty in daily necessities with Mingei. Today's pottery, mixes traditional Mingei designs with contemporary arrangements.
Hosshouji Shoka pottery studio is located at the foot of the Daisen mountains and at the bank of the Hosshouji river.It was opened in 1903, and the current Masumi Ando is the fourth generation master. He makes bowls and cups with his daughter, using soil that contains volcanic ash from the Daisen mountains.
400 pieces of Rosanjin's pottery are located in the Adachi Museum of Art which is celebrating its 50th anniversary in 2020. The Museum is famous for its Japanese garden (1st in the US magazine rankings for 17 consecutive years). In addition to the pottery work, there is the saying that, "Tableware is a kimono for the meal", as well as calligraphies and seal engravings. In April, The Rosanjin Hall opens and it is devised with lighting schemes to appreciate the works of Rosanjin.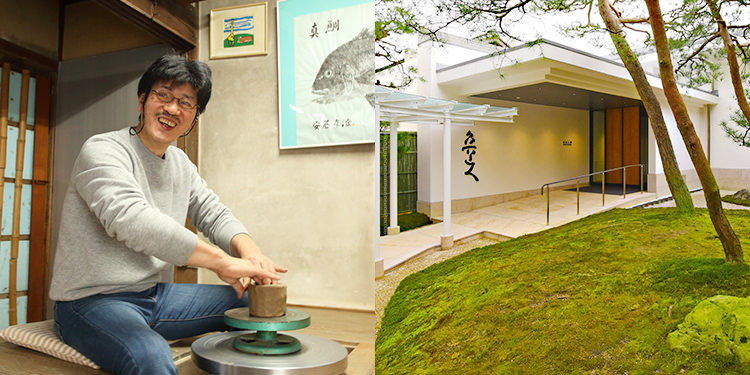 If you are fascinated by the soft curves and unique colors of pottery, you will want to experience pottery. At Imamiya studio, you can make dishes and cups using an electric potter's wheel (from 3850 yen). The potter takes time to teach carefully, so you can have great experience even if it is your first time.
A dozen of hotels are lined up along Tamayu river. Tonight's hotel is Tamatsukuri Onsen.The hot spring (Onsen) that was introduced in the history books of the 8th century, has a moisturizing effect called "like a lotion" and is very popular with women.
Chorakuen hotel also has a 400 square meter mixed open-air bath where men and women can take a bath together in a bathing suit.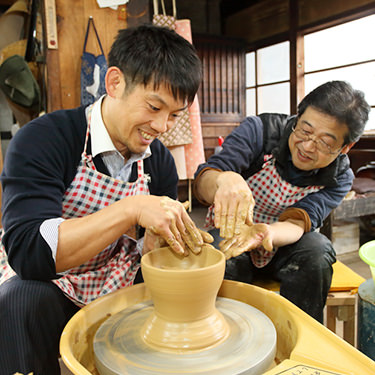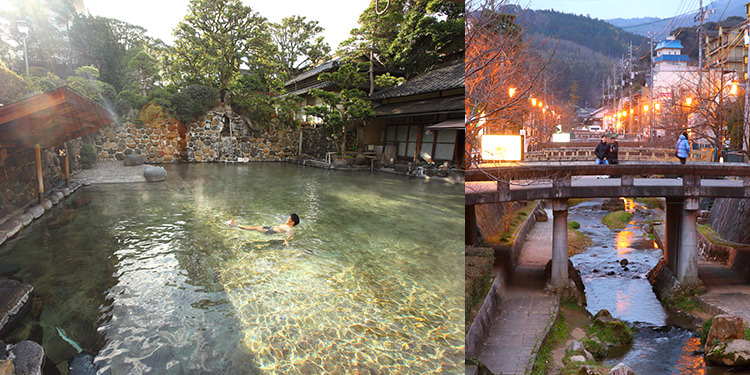 The next day, we first go to the Yumachi kiln. The masterpiece is slipware made by the English ceramic artist Bernard Leach, who was involved in the "Mingei" movement. In the hands of Fukuma Shuji, the handle is attached so that it "grows out of the cup," and a cup with protrusions that is easy to hold is made.
At Shoan, a coffee shop standing on the shores of Shinji lake, we can find pottery coffee cups come from 40 different pottery studios in Shimane prefecture.
President Fumio Toyoda is roasting coffee beans that have been designated for production in El Salvador and Panama.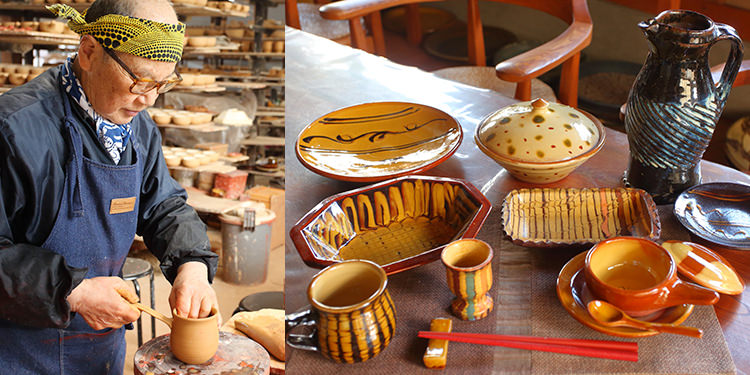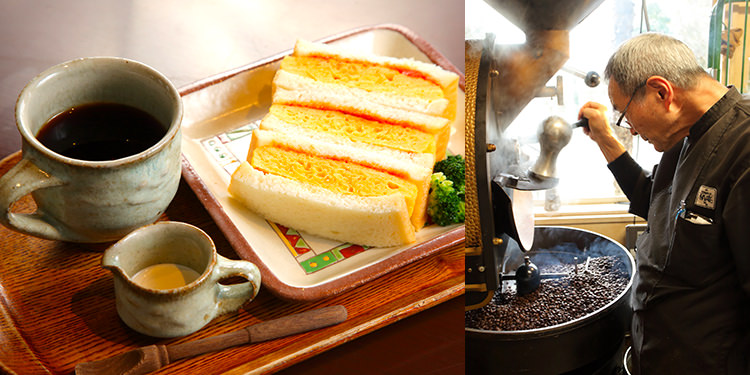 At the Sodeshi kiln near Matsue city, five potters, including the fifth generation of master Tomohiko Ono, make various kinds of pottery, such as plates, bowls, and cups. "I hope that you can use each dish differently and feel the Japanese food culture," says Ono.
Move west along the shores of Shinji lake to Yunokawa onsen. It is a small hot-spring resort with six hotels in the countryside. It features a slightly alkaline hot spring and is considered one of the most beautiful hot springs. The distant area of Shouen hotel is like an ancient palace or stilt warehouse, and there is a private bath for private use.
The Shussai course meal is made up of 12 dishes, including appetizers using seasonal ingredients: seafood from the Sea of Japan, and Shimane beef grilled, served in a Shussai kiln in the same town.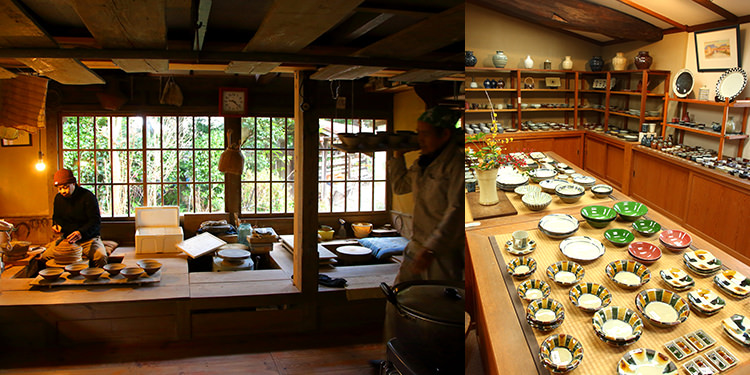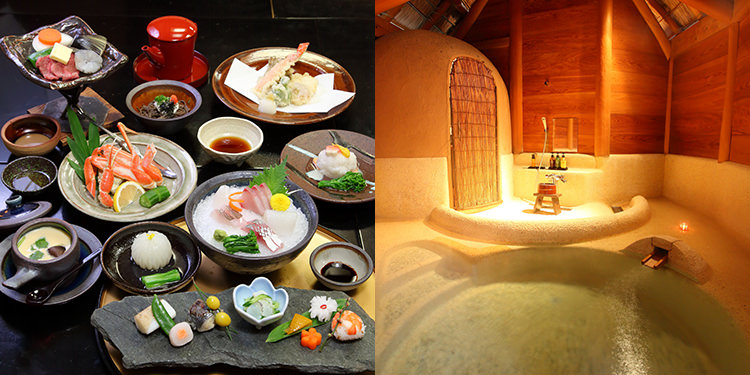 Shussai kiln is a large pottery with 14 potters. In a climbing kiln that put fire four times a year, you can bake about 3000 pieces at a time. In addition to white, black and amber, cobalt blue is a glaze that symbolizes this kiln. Climbing kilns and workshops can be toured freely. At the bakery cafe on the site, you can enjoy freshly baked bread and lunch.
The Izumo folk crafts museum has renovated a wealthy farm house and exhibits ceramics, woodwork, dyeing and weaving from the late 19th century to the early 20th century, it was mainly made in Shimane prefecture. You can find many San'in crafts and potteries in stands to buy as a souvenir.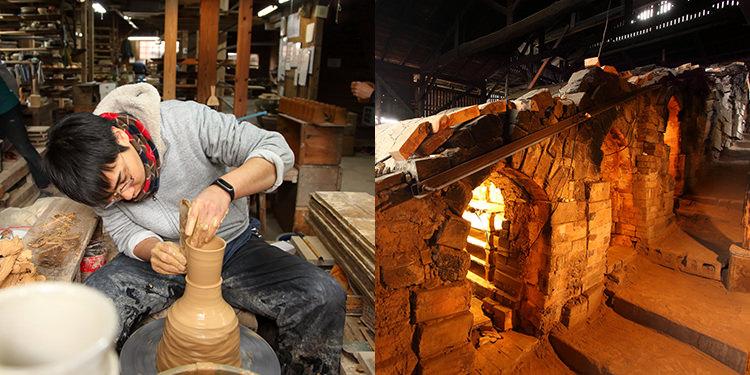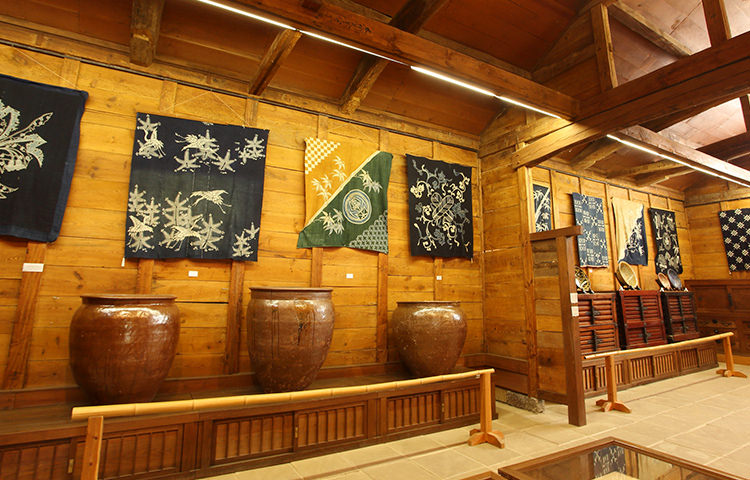 At the end of the trip, visit Izumo Oyashiro, a shrine where myriads of gods from all over the country gather in the fall.
It is known as the god of marriage, there are souvenir shops and restaurants on Shinmon Street, which leads to the precincts of the shrine.